Lady M Confections
Lady M Confections has made it's way into Singapore! This is the fifth outlet of the chain, and the very first out of United States. Known worldwide for their Mille Crepes, it features no less than twenty paper -thin handmade crepes layered with pastry cream.
I was there on a Sunday afternoon, a week after their official opening. However, we were informed that only their Signature Mille Crepes was available while all other cakes are sold out. Hence, we ordered a slice of their Signature and some coffee to go along with it.
Signature Mille Crepes SGD7.50
What is so captivating about crepe cakes is the layers of crepe alternating with the cream, creating an especially pretty cross section after having it sliced out and served on a plate. The top layer is gently caramelized till golden, giving the cake a nice finishing touch. We took our first bite of the cake, and the layers of the crepe was so soft it melts easily in our mouths. There was a tinge of sweetness amidst the frothy whipped cream sandwiched between the layers. As we made our way to the thicker portion of the slice, the cake got too creamy - practically much more cream than crepe. Hence, the cake turned a little too soggy and moist for my liking.
Green Tea Mille Crepes SGD8
Oh and did I mention that we were lucky enough to coincide with the delivery of a new batch of cakes? (It was around 1715 for a Sunday) Yay! It was quite a sight seeing the customers flocking up to the counters as they display their new batch of cakes. We decided to go for their Green Tea Mille Crepes because I have an undying love for crepe cakes.. The green tea version may appeal to some of you guys more, as the earthy tea taste has cut down the sweetness a little. However, the same problem was found in this cake - too creamy and moist!
On a side note, we had their Cafe Mocha (SGD5) and Macchiato (SGD3) for those who are interested, but nothing spectacular there. I'll definitely skip the coffee and go straight for the cakes on my next visit!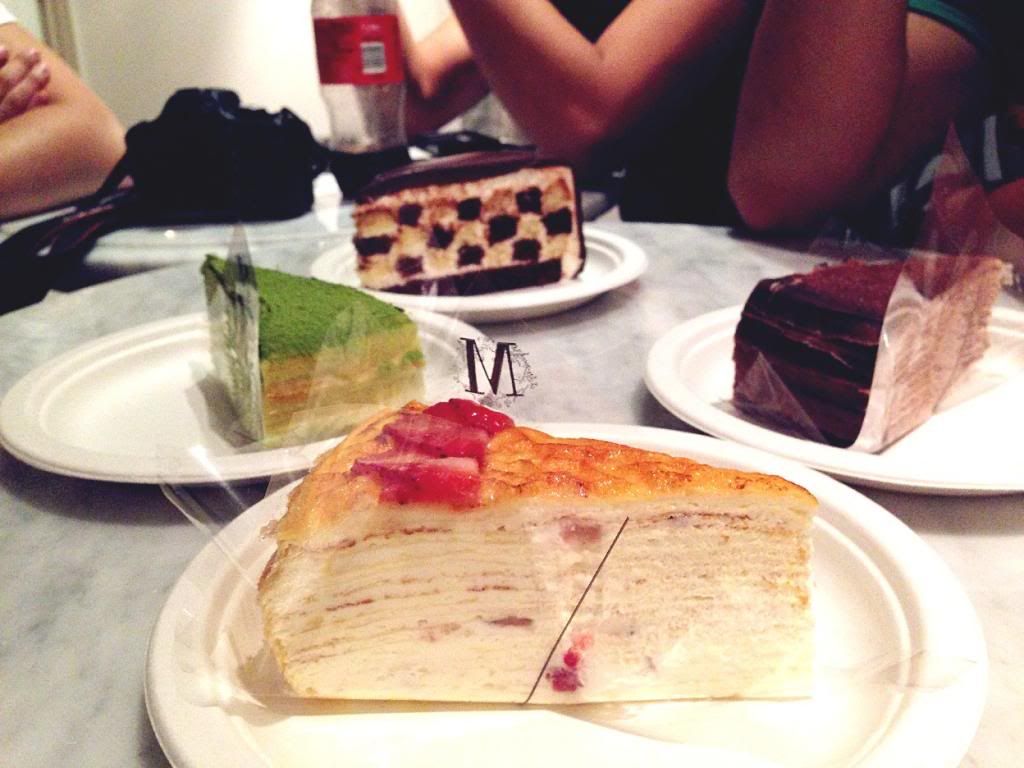 Lady M in New York - Prices start from USD7.50
Earlier on this year, I had tried Lady M when I was in New York for a holiday. I visited their store on the 59th Street(Plaza Food Hall Boutique), as it was conveniently situated next to Central Park. This store was located as part of a dining hall at the basement - likened to the Takashimaya Food Hall we have in Singapore. I managed to try a number of their cakes, namely their Signature Mille Crepes, Strawberry Mille Crepes, Chocolate Mille Crepes, Green Tea Mille Crepes and Checkers. The New York version was drier due to the thicker consistency of the cream, and also the ratio of cream to crepe works just right for me.
I guess my heart still lies with the Lady M in New York, but I don't fault them as it is definitely much more difficult to replicate the cakes in Singapore due to limitations in ingredients or bakers. Having said that, I am still happy to see Lady M in Singapore. It also implies that the food scene in Singapore is developing and I can't wait to see more overseas brands here soon!
I suspect that Lady M in Singapore will only get more popular, so go early to get your mille crepe cakes fix or you'll have to wait for their new batch of delivery to the store.
Lady M Confections is located at
Marina Square Shopping Mall
6 Raffles Boulevard
#02-103
Daily | 1100-2100 (last order at 2030)

Keep a lookout for their upcoming store at One Fullerton in Oct ;)