Lola's cafe
Another cafe making its way into the heartlands would be Lola's Cafe. Conveniently located 5 minutes walk away from Kovan MRT, this is the place to check out if you're looking for affordable food and a place to chill around the area. When I was first seated down, I found out that their tables are actually old sewing machines - how old school! We then started off our meal with an appetizer to share.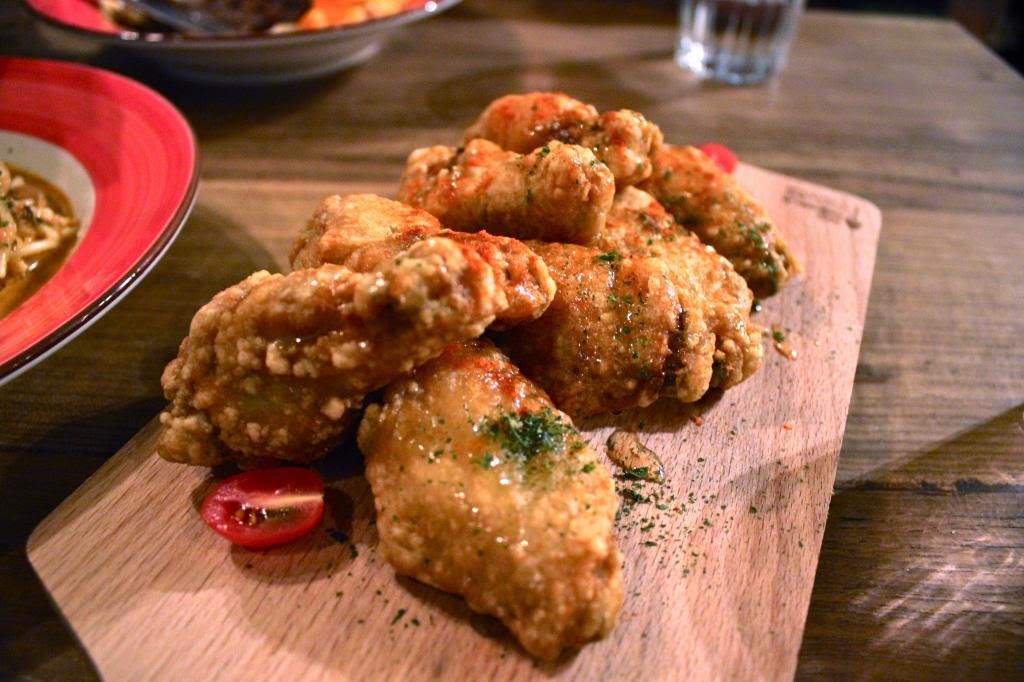 Honey and Paprika Wings SGD9
These were fried to almost perfection!!! It was coated with a layer of crispy batter that wasn't too thick and it doesn't feel greasy when you eat it. Drizzled with honey and a dash of paprika, it went well with the wings. Who doesn't like honey anyway? ;) Greedy me wished they had drizzled more of it!
Duck Leg in Orange Mustard Sauce SGD16
Lola takes a twist on their rendition of duck leg by serving it with an orange mustard sauce over buttery mash potato, giving it a zesty kick to this dish! It is tangy, sweet and savoury altogether, which tickles your taste buds. The duck leg is braised then pan fried, resulting in a slightly crispy skin on the outer layer. I thought the duck meat could be more tender!
Summer Swimmer Crab Spaghetti SGD15
A tomato cream-based spaghetti could never go quite wrong. Along with crab, lemon, chilli and fresh basil, the flavors on this plate packed a punch! The spiciness of this dish was just nice for me, and kept me wanting for more especially when there was so much crab meat in it.
Banana and Earl Grey Tart SGD4
We ended off our meal with a Banana and Earl Grey Tart topped off with Pistachio nuts. I enjoyed the earl grey taste of the tart, but it was soon overpowered by the caramelized bananas when I took a bite of it. I do think that they both taste great on their own, but probably not together!
You may be happy to find out that Lola's Cafe does not have GST/service charge. I've noticed that they have quite a good selection of ciders/beers, so grab a few friends and head down there for some drinks!
Lola's Cafe is located at
5 Simon Road
Singapore 545893
Tue-Sun | 1100-0000
https://www.facebook.com/lolascafesg